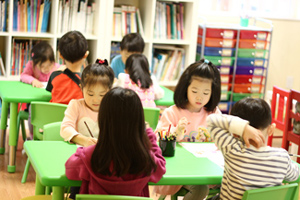 Bambini has wonderful teachers that will fill your child's mind with tons of knowledge. All of our staff are bilingual and college educated who offer learning experiences from Korea and the United States.
Our teaching staff are also Montessori certified from accredited training centers and have completed Washington state teacher requirements including professional development in Early Childhood Education, background check, TB test, CPR, First Aid, HIV, AIDS and Food handler permit.
The Bambini Difference
At Bambini, we share Maria Montessori's belief that children learn best when they learn in their own way and at their own pace. Education here is student-centered—not only in appreciating children's differences and accommodating their individual learning styles, but also in the way children are themselves responsible for their learning.
Learn more about our mission, values and vision, and consider these Bambini educational advantages:
A personalized learning plan, continually updated, for your child. At Bambini, there is no "one size fits all" approach to learning.
Responsibility and accountability, challenge and achievement. At Bambini your child will commit to, and take ownership of, the tasks of carrying out his or her assignments. As children eagerly seek out and meet new challenges, they steadily develop their skills and talents, and achieve to their full potential.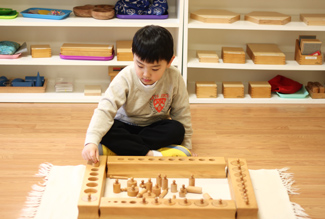 An ideal balance of teacher direction and child choice. At Bambini, your child takes the first exploratory steps on his or her learning path, yet is guided at all times by attentive, professional teachers.
Strong partnership between your home and the school. Parental participation is encouraged throughout your child's experience at Bambini. This enriches your child's education and creates a Bambini community extending beyond children, teachers, and administrators.
Nurturing Your Child in a Personalized Learning Environment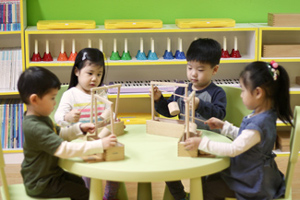 Bambini Montessori Learning Center is here to provide a highly personalized learning environment that appreciates individual differences, nurtures the whole child, and enables children to develop at their own pace and achieve their full potential. This happens in a warm, caring, open, and culturally diverse environment.
Montessori and More
Montessori education blends the distinctive student-centered approach of Maria Montessori with traditional and progressive teaching methods. Our aim is to have your child benefit from the best of many methods of learning. This helps prepare your child for the challenges of continuing education and the many experiences of life.
Directed Choice – Bambini children take responsibility and are accountable for their education. With careful direction from Bambini's teachers, your child will have the freedom to make choices and learn independently — from day to day, from month to month, and from year to year. This helps your child build self-esteem and confidence.
Focus on Academics – At Bambini, your child will steadily develop skills in practical life, sensorial exercises, language arts, mathematics, and cultural studies. Montessori classroom materials engage children, encouraging their eagerness to learn. As children master new skills, they move on to more challenging materials and progress toward their full potential. In this way, the Bambini curriculum fits your child, rather than making your child fit the curriculum.
Character Development – Bambini considers your child's development of character equally with academic growth. Children learn to take care of themselves, their environment, and each other. They practice cooking, cleaning, building, gardening, moving gracefully, speaking politely, being considerate and helpful, and contributing to the community.
Love of Learning – Each day at Bambini, teachers guide children according to their own learning styles in exploring materials that kindle and sustain their interest. Teachers and children work collaboratively, delivering exceptional results. Your child gains a lifelong love of learning.